Weather, the great equalizer. It can't be controlled. It can't be told what to do, and no matter how much we want to, no one has been able to come up with a weather machine. We can complain that it's too cold, too hot, too rainy, too snowy. We can wish it would stay like this forever. We can hope it's going to be nice out – but in the end, we have no say in what Mother Nature dishes out for us.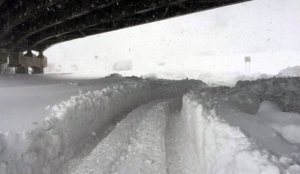 Transportation is greatly affected by the weather. Flights are delayed for all kinds of reasons, but the weather is number one. If it's too foggy – DELAYED, if it's too stormy – DELAYED, if it's too snowy – CANCELLED. No amount of wishing can get those planes off the ground if the weather isn't cooperating. It has the ability to create lines of stranded passengers a mile long, who just want to get to their destinations. Motorcoaches and cars seem to have an easier time dealing with poor weather conditions. Road conditions can change from hour to hour.
Recently, snow storms blanketed the Buffalo, NY area, and motorists were stranded for days. Feet of snow, not inches, feet of snow, fell on the city and it accumulated fast. Cars were stranded everywhere and homes were covered to their rooftops. It was during this same storm that a women's college basketball team was making their way home, when the motorcoach they were riding on got stuck. The team had a few snacks that they shared, a working bathroom, plenty of room and even though the conditions were not ideal, they were livable for the twenty-four plus hours they were stuck. The driver of the bus kept it running the entire time, which allowed for heat and electricity and was more than most people experienced that snowy night.
Nobody wants to be late. Drivers try their hardest to get their passengers to and from their destinations safely and on-time, but sometimes it's just not possible. When the weather is poor, expect delays – just like at the airport, only we promise to not keep you on the tarmac for hours without giving you an explanation, or letting you out. Most of the time, a motorcoach will have the ability to pull off, wait it out, get you to a hotel, a restaurant or another facility that may not be on the itinerary, just to keep the group from having to sit on the bus for longer than necessary. It's a more flexible method of travel, during a time when flexibility is a must!
So remember, when Mother Nature decides to show us who's boss, GoMotorcoach and leave the driving to us!