Point Pleasant, NJ is most often thought of as a summer destination.  And while the weather is often more conducive to swimming after the fourth of July, there is really no need to wait that long.  Point Pleasant is still there in the spring and early summer and with smaller crowds it ends up being just that much more…well, pleasant.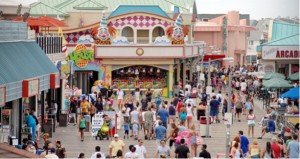 Located in Ocean County, Point Pleasant has long been a popular getaway for those living in Philadelphia and New York City.  It is a family-friendly spot loved by and designed for kids of all ages.  In recent years as families have been looking for more places to go that everyone can enjoy, Point Pleasant has become just that much more popular.  What is the best way to get there?  Well by motorcoach of course.
Your charter motorcoach journey to Point Pleasant can drop you right off at the boardwalk so you can enjoy the crystal clean beach and all the amenities the boardwalk has to offer without the hassle of having to find a place to park or the expense and uncertainty of a local parking lot.  There will be none of that for you because you planned ahead.  But what to do once you arrive?  That is the best part.
Start with Jenkinson's Boardwalk, the centerpiece of the Jersey Shore.  While there are boardwalks that have more popularity in New Jersey, none are as fun or as well maintained as Jenkinson's.  It is about one mile long and contains thrill rides, attractions, restaurants and arcades.  If mini-golf is your idea of fun than look no further as there are three outstanding places to play; Rooftop Golf, Castaway Cove and my personal favorite, Lighthouse Point.
Looking for a little adventure and maybe a scream or two?  Then you must try the Dark Ride at the South Beach Arcade.  The Dark Ride is a 7D interactive experience that makes a 3D movie seem as exciting as using a View-master.  They have two movies to choose from; Zombies and the all-new Gigamon.  Why not try both?
If you're looking for adventure of a different sort then you can check out the Point Pavilion Antique Center.  The center is stuffed to the gills with antiques and collectibles.  You may find more than you can take with you on the bus as you explore the two floors of treasures, but no worries there as you can always ship larger items to your home.
Uncle Vinnie's Comedy Club provides year-round entertainment guaranteed to make you smile.  While this club may not always be family-friendly, they do cater to groups and offer group discounts for both dinner and show packages.  The top comedians in the nation are always featured at Uncle Vinnie's.
Speaking of food, there are some wonderful places to dine in Point Pleasant.  Naturally you can find all of the requisite boardwalk style food you could ask for including popcorn, cotton candy, sausage & peppers and ice cream.  However if you want the best ice cream you want to make a stop at Hoffman's.  Hoffman's serves up some 40 flavors of delicious ice cream and frozen yogurt and they offer tours as well to see how it is all done.  They have all the traditional flavors, but get a little adventurous and try the Sea Salt Caramel Latte flavor.
When it is time for dinner you want something really good and not another serving of fries from boardwalk.  If Italian food is of your liking then visit Spano's Ristorant Italiano.  Owned and operated by Chef Joseph Spano for over 15 years, the restaurant features authentic Italian food in an authentic atmosphere. Traditional dishes, such as lasagna and chicken Parmesan are available and very popular.  Named for Joseph's mother, one of the house favorites at Spano's is the Chicken Zia Carmela; mushrooms, eggplant and roasted red peppers sauteed in a garlic tomato sauce, served over breaded boneless breast of chicken, topped with mozzarella cheese and their award winning marinara sauce.   You will not leave here hungry.
So why not get the family and friends together, leave the car behind and charter a bus?   You can make plenty of memories in Point Pleasant, NJ before the crowds arrive this summer.  You may not want to swim in the ocean, but there's absolutely nothing wrong with a nice walk on the beach.