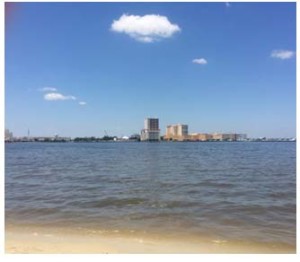 Hurricane Katrina will long be what many people think of and associate with the great coastline of Mississippi. Although the impact of Katrina will forever be etched in our hearts and minds, the towns that were in the eye of the disaster almost 10 years ago have overcome and rebuilt far beyond what was ever imagined! The people of the south are a hearty and dedicated group, determined to prove that the MS Coast will continue to be a favorite vacation spot for visitors young and old. Whether you're into history, art, nightlife, entertainment, golf, camping, beach life, or good food, the MS Gulf Coast has something for you!
The Mississippi Gulf Coast is 62 miles or scenic shoreline with 26 miles of incredible soft sandbanks. Along the route, there are many areas designated for endangered species. Visitors are often seen stopping along the road to take pictures of these beautiful endangered animals. One frequently seen bird, the Least Tern, is a tourist favorite! The coastline is a great spot for photography lovers!
During March-October, your group must plan a trip to Ship Island­—a short ferry ride directly off the coast of Gulfport. Ship Island is one of the most popular water-borne attractions. A family owned and run business since the early 1900's, Ship Island offers fun for everyone! The smoke-free ferry ride lasts just under an hour, and has different departure and return times available to accommodate the needs of your group. During your ferry ride, be sure to keep your eyes open for dolphins! They love to perform for the ferry groups! Coolers up to 42 quarts are allowed, but no class containers please. Umbrellas and chairs may be brought with you, or you may choose to rent them on the island. The island features a large swimming area, a snack bar, covered picnic areas, restrooms, showers, gift shops, room to explore and collect shells, and even free guided tours by park rangers of Fort Massachusetts! Groups of 20+ must make reservations within 48 hours of expected arrival. Group discounts are available except for Saturdays, holidays, and holiday weekends. Adult price is $23 (age 11+) and $15 for children (age 10 and under). No charge for children under the age of three. Spend a few hours or make it an all-day trip! Another thing to keep in mind is many hotels offer Ship Island discounts!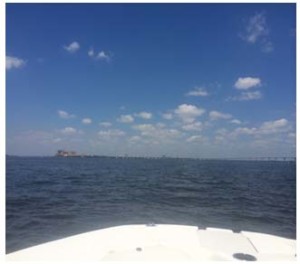 Another kid-friendly attraction is Gulf Islands Water Park. It's opened from May-September, but daily operation is only during the months of June and July. The water park offers water fun for all ages with the lazy river, a water roller coaster, slides, rafts, and wave pools! The little ones will really enjoy Lil Pelican's Bay and Ship Island Wreck. Group rates are available for groups of 15-99 people and a 72-hour advanced booking is required. Group rates are $21.99 Saturday-Sunday and $19.99 Monday-Friday. Group meal vouchers can also be purchased for $7.25.
Lover of classic cars, motorcycles, and boats? Stop at Busted Wrench Garage Museum and Gift Shop in Gulfport. The 6,000 square foot exhibit hall is open Monday-Friday from 8-5 and Saturday from 10-5. What makes this a favorite stop is that the museum is fascinating and free! If you're looking for a little more adventure, mosey on down to Pascagoula. Gulf Coast Gator Ranch and Airboat Rides is a year-round place of excitement! Open from 9am-6pm Monday-Friday and 12pm-6pm on Sunday, there is plenty of time to plan your fun. From an enclosed boardwalk, you can feed and few the alligators before the 30 minute airboat ride through the swamp with your personal tour guide! Prices are $30 (ages 10+), $15 (ages 4-9), and children under age 4 are free of charge.
While in the area, visiting local eateries will blow your mind! Two local favorites are The Shed BBQ & Blues Joint with locations in Ocean Springs and Gulfport, and Half-Shell Oyster House with locations in Biloxi, Gulfport, and in the Biloxi Hard Rock Casino. The Shed is a very eclectic restaurant and has won numerous BBQ awards. It was even recently featured on Food Network! Enjoy a full rack of baby back ribs, 3 sides, and 2 slices of BBQ bread for only $34! Not that hungry? A pulled pork plate with 2 sides and bread should fill you right up for only $12! Craving more of a seafood type meal? Be sure to check out Half- Shell Oyster House and their famous charbroiled oysters. Customer favorites include the shrimp and grits, seafood pot pie, gumbo, and other seafood specialties. Visiting this New Orleans inspired atmosphere and restaurant will be a real treat! If you're more in the mood for mouth-watering burgers, make sure to stop at Woody's Roadside in Ocean Springs, MS. Open from 11am-10pm, there's plenty of time to try their famous wings, BBQ, burgers, daily specials, and more!
Accommodations are abundant along the coastline, and many visitors enjoy staying in one of the many casinos for as low as $59/night. The Islandview Casino in Gulfport is directly off Highway 49 and is a straight shot to the Outlet Malls and a vast choice of dining options. If non-smoking is your preference, The Palace Casino is 100% non-smoking and your place to stay and play. Looking for something more quaint and quiet? Gulf Hills Hotel and Conference Center in Ocean Springs is perfect. Rooms start around $100/night, but group rates are available. This hotel was a favorite of Presley, Monroe, Garland, and Mansfield in years past. With fishing, kayaking, bird-watching, playing tennis or golf available to you on-site, this could turn into your new favorite getaway, too!