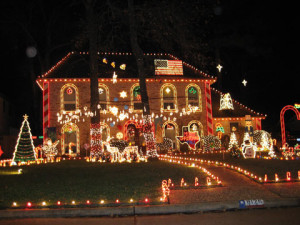 The hustle and bustle of the holidays is upon us.  Everyone is running around trying to get that one last gift purchased, wrapped, and given to that special someone.  Why not take a little break from all of that and enjoy the scenery?  Many communities take tremendous pride in their holiday light displays.  Hours of work, and millions of lights later, the displays are ready to be enjoyed.  Here are the Top Ten Holiday Light Displays according to our friends at America's Best & Top Ten:
1. Shadrack's Christmas Wonderland – Tennessee
In West Knoxville and Bristol, Tennessee, Shadrack's Water Sports puts on two of the most awesome Christmas light show you've likely ever seen. Shadrack's Water Sports has transformed the large hillside behind their boat showroom into a Christmas wonderland with hundreds of thousands of brightly colored lights dynamically synchronized and dancing to Christmas tunes.
2. Silver Dollar City – Branson, MO – November 1 – December 30
Millions of Christmas lights cover the whole park. Plus, the entire City is transformed into a holiday wonderland each evening at 5:30 p.m. as guests join together on the Square for the lighting of the dazzling, five-story Special Effects Christmas Tree. Adorned with over 250,000 lights coordinated to blaze to the musical movements of Christmas songs, this unique Special Effects Christmas Tree presents classics such as "Carol of the Bells" and Handel's "Hallelujah Chorus" in a spectacular light and sound show.
3. Oglebay Festival of Lights – Wheeling, WV – November 4 – January 5th.
In 1985 a holiday tradition began at Oglebay and spread throughout the city of Wheeling. That tradition is the Winter Festival of Lights celebration. The first year, displays and landscape lighting covered about 125 acres over a three-mile drive throughout the resort. Since then, the show has grown into one of the nation's largest Christmas light shows, covering more than three hundred acres over a six-mile drive throughout the resort.
4. Smoky Mountain Winterfest – Gatlinburg, Pigeon Forge and Sevierville, TN.
Smoky Mountain Winterfest is a magical celebration that begins in late fall.  Ride the Trolley Tour of Lights around Pigeon Forge and claim a spot on the sidewalk  for Gatlinburg's "Fantasy of Lights" Christmas Parade, featuring lighted floats, marching bands and giant helium balloons.  This event combines 3 Tennessee cities: Gatlinburg, Pigeon Forge and Sevierville. These neighboring Smoky Mountain towns are ablaze with 5 million lights thru February.
5. Trail of Lights – Austin, TX – December 14 – December 23
The  Trail of Lights is a mile long display of 42 lighted scenes, US Post Office, Santa's House, the Yule Log, and an entertainment stage. The festival begins with the lighting of the Zilker Tree, a 155 feet tall, 180 feet diameter lighted tree consisting of 3,309 bulbs on 39 streamers strung from Austin's historical Moonlight Tower. Since 1987 the honor of lighting the tree has been bestowed upon the winner of the city-wide children's tree coloring contest. The tree lighting ceremony takes place on the first Sunday of December.
6. Magical Nights of Lights – Lake Lanier, GA – November 22 – December 30
Rekindle an old tradition or create a new one at Lake Lanier Islands Resort's 16th annual Magical Nights of Lights holiday celebration. Known as the world's largest animated light extravaganza, the fun kicks off November 22 through December 30 from 5:00 p.m. to 10:00 pm. nightly! Bring the whole family a drive through tour of over six miles of twinkling, holiday light displays and a live nativity scene complete with live actors and animals!
7. Holiday Festival of Lights, Charleston, S.C. – November 14  – January 4.  In 1990, Charleston County Park & Recreation Commission created the Holiday Festival of Lights to bring families and friends together and to raise support for the Charleston county park system. With over 600 individual displays located throughout the park in 132 power locations, the Holiday Festival of Lights is a magical sight to see!
8. Enchanted Garden of Lights, Chattanooga, TN – November 21 – January 3.
See Rock City! The gardens' natural beauty is complemented by more than 25 holiday scenes as half a million lights illuminate rock formations along the Enchanted Trail.
9. Louisville MEGA Cavern, Louisville, Kentucky
Every year, the Louisville MEGA Cavern will be transformed into a Christmas light spectacular for all of Kentuckiana to experience. Lights Under Louisville will feature 35 displays, 300 LED Light characters- over 1,000,000 points of light.
In 2009, the MEGA Cavern's Lights Under Louisville allowed the public to drive their own vehicles inside the cavern to experience this unique Christmas wonderland.
10. Southern Lights – Lexington, Ky. – November 22 – December 30
The annual Southern Lights event is the largest fundraiser held for The Kentucky Horse Park. Over 25,927 vehicles passed through the electrical wonderland in 2006 alone! Everything from petting zoos, model railways, arts, crafts, and Santa Claus fill the Indoor Attractions section free of charge to guests.
Honorable Mention
Fantasy of Lights – Pine Mountain, GA – November 14 – December 30
100 Miles of Lights – Virginia Beach, VA
Bright Nights at Forest Park – Springfield, MA
Christmas Lighting Festival –  Leavenworth, WA –
Clot Family Christmas – Pinecrest, FL – Thanksgiving
Festival of Lights – Galveston, Texas
Galaxy of Lights at the Huntsville Botanical Garden –  Huntsville, AL
RHEMA Christmas Lights – Broken Arrow, OK
Tanglewood's Festival of Lights –  Clemmons, N.C
Mission Inn – Riverside, CA
Temple Square in Salt Lake City
Lexington Fire Station 20, Lexington KY
Hyatt's Extreme Christmas Home, Fort Lauderdale, Florida