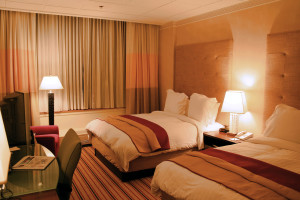 Finding a hotel is easier than ever these days when you consider all of the technology we have at our fingertips.  Gone are the days of calling a travel agent and taking their word for it that you are getting a great deal at a great property.
Now you can read reviews, compare locations, amenities and room details.  Everything you need to make an informed decision is available – but why is it still so difficult?
Choosing a hotel for a large group is very different from choosing a hotel for an individual or family.  One has to think of all the group members wants and needs.  Some members may be elderly and need main floor rooms or access to elevators, some group members may be young and require some kind of entertainment like a pool or game room.  All group members will need to eat at some point – will the hotel offer breakfast or does it have a restaurant on site or nearby?
Remember three keys when choosing a hotel for your group: Location, Amenities & Group Friendliness.  If you keep these at the forefront of your mind – you will be in good shape!
One site we found that makes selecting a hotel easy is BusRates.com.  It's not your typical directory site.  The team at BusRates has personally made connections with group sales leaders at many hotels throughout the nation.  This not only give you an advantage over the typical directory one-price-fits-all sites, it gives you a real, live human being to speak to.  A person who is on property and can give your group the individualized attention it deserves.
The site doesn't stop there!  It has tons of attractions, events and restaurants they have determined are group friendly – and have the knowledge and ability to properly take care of large and small groups.  It's basically a one-stop group-travel-planning stop!