More passenger miles per gallon then trains, planes, transit busses even hybrid cars. Now that's green!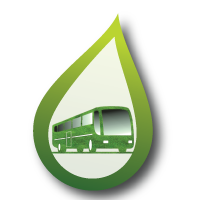 The Future of Our Planet is in Our Hands.
It's true, motorcoach travel is one of the greenest on the road or in the air today. A single motorcoach can take as many as 56 cars off our already crowded roads, and that is our goal day in and day out.
But we don't stop with just taking cars off the road. In fact, a motorcoach delivers more passenger miles per gallon of fuel and yields more people-moving efficiency than any other mode of modern transportation. The only thing greener would be to walk or take a bicycle. We are proud of our efforts to keep the environment safe. Call us today and let us help make your next trip or event a little more… Green!
"Everything was fantastic. The bus was clean and comfortable, and between the good bus and our drivers competent driving, the ride was smooth and peaceful. Our Driver provided excellent suggestions for pit-stops and meals. Overall, the trip was perfect. Cheers!"

− Northern Arizona University
"Wow. Amazing, amazing service. THANK YOU!"

− Us Bank
"Hi, The trip was wonderful. We all had so much fun and everything went really smoothly. Our driver did a fabulous job for the day. The bus was amazing a worked out very well for us. Thank you so much.""

− Portland Trail Blazers
20
Thousand Passengers A Day
No matter where you go. No matter where your from. No matter the group.
Motorcoach is a the better way to go. Finding a local provider serving your area could not be easier. Turn your next trip into the best trip, start with a motorcoach!