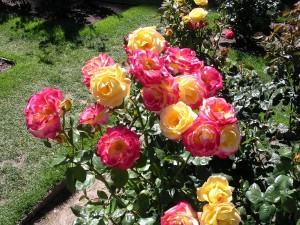 Whether you realize it or not, one of the greenest and most economical ways to see the USA is via a charter bus.  And whether you want to travel near or far the motorcoach can take you there.  So with a wink and a smile it is time to literally stop and smell the roses in Portland Oregon.
Portland is known as the "City of Roses" and it has been given this name for a very good reason; Portland is home to the International Rose Test Garden.  The Rose Garden, located in Washington Park, is home to over 7000 rose plants of some 550 varieties.  Your motorcoach can drop you off at the entrance so you can walk through the gardens on paved paths, enjoy the beauty of the flowers and get an outstanding view of the Portland skyline.  There are fountains, statues, plenty of photo opportunities and the park has access ramps so no one is left out.  Public tours are offered free of charge daily at 1:00 PM, but self-guided tours are always available.  Groups of 11 or more can arrange for guided tours in advance.
Each year Portland is home to the annual Rose Festival from late May to early June.  The festival includes activities for all ages.  There are several parades including the nighttime Starlight Parade and the centerpiece of the festival, the Grand Floral Parade.  But the fun does not stop there; concerts, golf tournaments and a rose show are also great activities to enjoy.  A dragon boat race takes place every year on the Willamette River where over 80 teams compete for the title of champion.  However, what may be the most enjoyable activity of the festival is the Milk Carton Boat Race.   Both children and adults enter their homemade human powered boats that float only by recycled milk cartons and milk jugs to vie for the coveted Best in Show Milk Can.  And yes, sometimes they sink.
Located right next to the Rose Garden is the beautiful and tranquil Portland Japanese Garden.  It is a traditional Japanese Garden consisting of five sub-gardens spread over five and ½ acres.  Be sure to put away your cell phones because they are not allowed in this land of peace and harmony.  A stroll through these gardens will give everyone a deep connection with nature.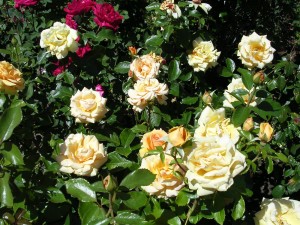 If animals are more of your liking the Oregon Zoo is about two miles away from the Rose and Japanese Gardens and features over 260 species to admire and enjoy.  And right next to the zoo is the Portland Children's Museum; the sixth oldest children's museum in the world.  Although designed for children, the museum is a joy for families of all ages.
One of the other benefits of visiting Portland is their unique light rail system known as MAX.  Sometimes getting downtown in a large city is not always easy for a bus and that is where MAX comes in.  MAX has four lines; Blue, Green, Red and Yellow, and all of them run through downtown Portland.  So if you are up in the Washington Park area and want a bite to eat downtown you can easily hop aboard the Red or Green line and find yourself a great meal.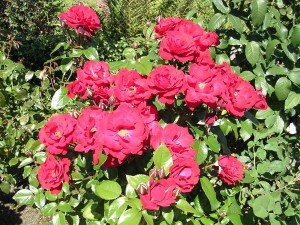 And speaking of great meals there is no shortage of delicious places to dine in Portland.  Have you ever wanted to try a bison or elk burger?  Well then Deschutes Brewery is where you want to go.  It is a great place for large groups and the food and atmosphere all have a distinctive Portland flair.  Start your meal off with the Fried Pickled Cauliflower and then just try and decide what you should have for your main course.  If you are a fan of beer you will most definitely find several here to your liking.
If a little Italian food is what you are craving and you are not afraid of ghosts then Old Town Pizza is a fantastic place to din  .  Old Town Pizza sits in the original lobby of the old Merchant Hotel.  You place your order at the hotel's original reception desk.  There is an old legend that tells us this place has been haunted for well over 100 years.  Go for yourself, hear the story and enjoy the food.  The pizza is all natural, local and handmade.  The sauce is made from scratch daily and is indescribably delicious.  If pizza is not your favorite then dive into a plate of spaghetti and meatballs, but whatever you do, do not leave without trying an order of garlic knots.
So why not get your family or maybe those old friends you've been meaning to get together with and charter a bus to Portland.  The roses are waiting for you.