There is no better way to celebrate summer and our nations birthday than a road trip to some unusual All American places, with friend/family, on a motorcoach.
This great nation of ours is home to thousands of great travel destinations that would make a memorable vacation for any group.  Below you will find our Top 5 Places You May Not Have Thought Of As A Summer Destination list.  Enjoy! #GoMotorcoach
5.  Carhenge in Alliance, Nebraska.  Many have heard of England's Stonehenge, but have you heard of Carhenge?  Thirty-eight, gray spray painted cars placed as a life size replica of the ancient formation.  Created by artist Jim Reinders in 1987, Carhenge now boasts 80,000 visitors per year.  It's free to the public and open year round.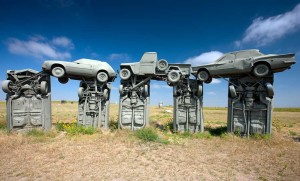 4. The World's Largest Twine Ball in Darwin, Minnesota.  In 1950, Francis Johnson began winding twine for 4 hours per day until the he passed away in 1989.  What resulted was a 17,400 pound ball of twine that was nearly 40 feet in diameter.  Darwin, MN celebrates each August with its Twine Ball Festival in which visitors can create their very own twine balls.  The attraction is open year round and free to the public.
3.  The Desert of Maine in Freeport, Maine.  Enjoy camping, hiking and a tram tour of Maine's very own Sahara-like desert.  Scientist believe that a glacier left this 300-acre stretch of sand, that was buried for centuries, until poor farming techniques exposed it in the 1800's.  The park is open May through October with admission cost of less than $10 per guest.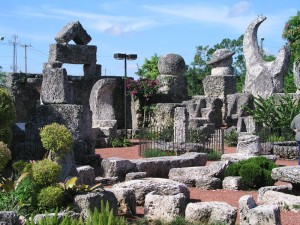 2.  Coral Castle in Homestead, Florida.  For over thirty years, Ed Leedskalnin carved his castle out of solid coral, using only basic hand tools.  Leedskalnin who was only 5 feet tall and weighed 100 lbs. worked mostly  during the night, to prevent prying eyes from seeing his creations.  The castle consists of over 1000 tons of coral and has a 9 ton revolving gate.
1.  Marfa Lights in Marfa, Texas.  On clear nights, onlookers can oooh and ahhh over the mysterious lights that appear over the Mitchell Flats.  Scientists have yet to explain why the light phenomenon happens.  Some say the lights are car lights and others say they are alien spaceships or ghosts.  Whatever they are, each Labor Day, Marfa celebrates the lights with the three-day Marfa Lights Festival.  Enjoy music, food, craft and art vendors and a night parade during the festival.