The world is a book, and those who do not travel read only a page – Saint Augustine
So your group is ready to get together for charter bus tour this spring, but where should you go?  You don't want anything too hot and you certainly don't want anything too cold which leaves Charleston, SC as the perfect destination.
Charleston is the oldest city in South Carolina and is certainly the most historic.  The city's residents pride themselves on their hospitality and welcome visitors with open arms.  It is the kind of place where you will never meet a stranger.
Quite simply, the best place to start any visit to Charleston is with a carriage ride in the historic district.  There are several good companies to go with, but I have found the Old South Carriage Company to be the best.  The drivers are courteous and incredibly knowledgeable and will tell you more about the city than you ever expected.  All tour companies get busy, so an early start is recommended.  All carriage tours begin and end in downtown Charleston and due to the unique system the city uses to direct carriage traffic; no two tours are exactly the same.  Just sit back, relax and let the horse do all the work as you see beautiful homes, gardens and places of worship in The Holy City.  After your tour be sure to take a moment to pose for a photo with your horse.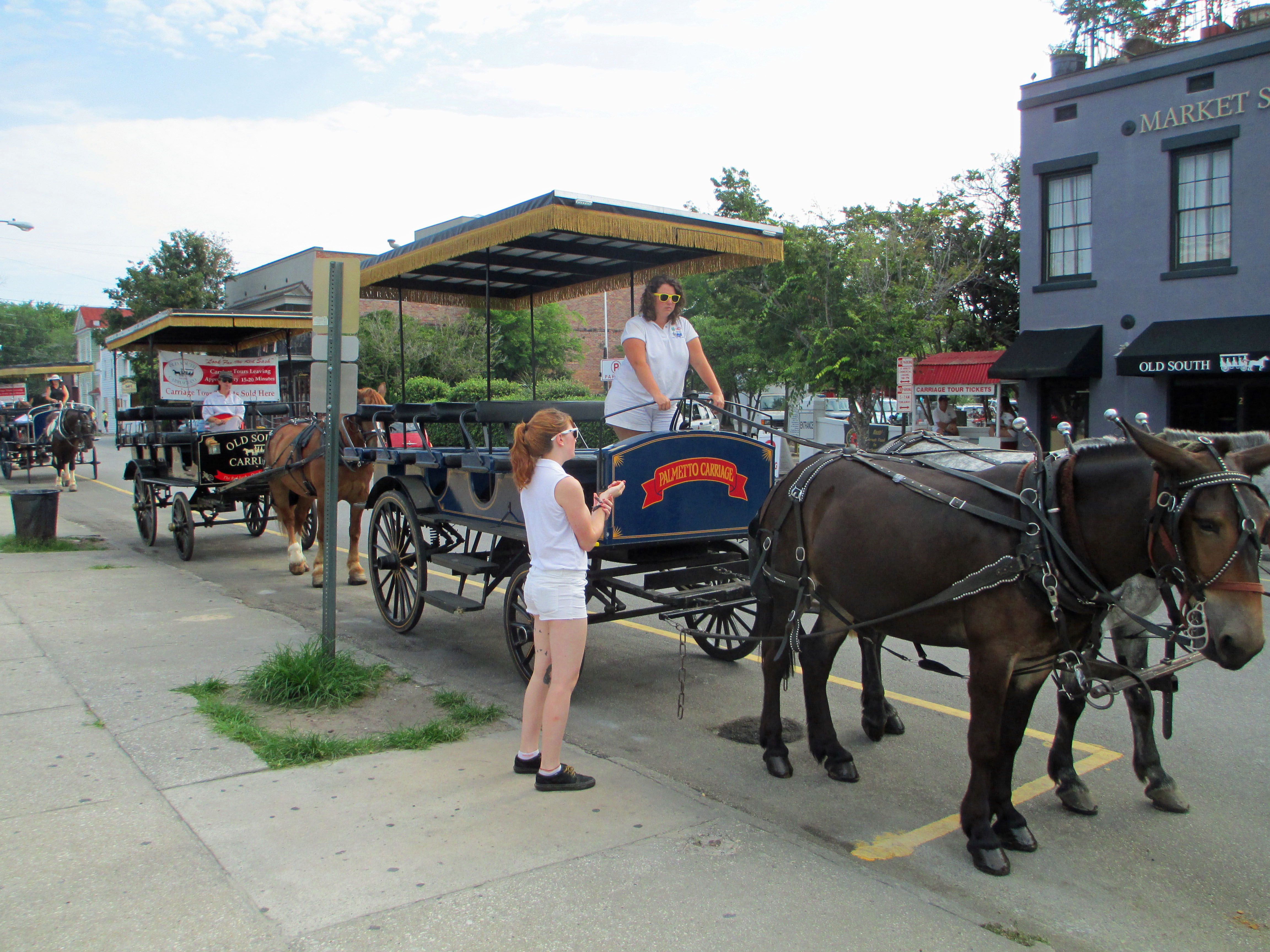 While on your carriage tour you would have passed by several restaurants, most of which are beautiful homes that have been converted to dining establishments.  One such place is Poogan's Porch.  Located on Queen Street in a Victorian home built in 1888, Poogan's Porch has been serving delicious meals since 1976.  The restaurant is named after a dog that used to visit all the porches in the neighborhood looking for table scraps and served as the official greeter until his death in 1979.  As far as the food goes you may never want to leave.  The buttermilk fried chicken is a big favorite and so is the Ribs & Mac, but to me there is nothing better than the Chicken & Waffles.  Crispy chicken breasts served over waffles with blueberry Texas Pete maple syrup?  Yes please!  Best of all, Poogan's offers group dining so you can keep your group together for a special brunch.
Take a stroll to the Charleston City Market for some unique shopping.  There you will find just about anything you can imagine including antiques, toys, artwork and plenty of souvenirs.  The market is quite large and has many vendors, but be sure and take a few moments to watch the ladies weave the Sweetgrass Baskets.  Originally used on plantations to free dirt from rice, the baskets are now works of art and make a fantastic collectible from your trip.  You will be amazed at the artistry of these baskets and as many times as I've seen them made, I still can't figure out how they do it.
You could literally spend days exploring the beauty of the homes and gardens of Charleston's historic district, but what if you want to get away and see some other things?   Not far from downtown is Fort Sumter, the site where the Civil War began.  Just take the ferry to the island and start your tour.  You can stand right there on the site where the first shot was fired.  If that is not enough history for you, take your group to Patriot's Point where groups of all sizes are welcome.  Tour the USS Yorktown, visit the Medal of Honors Museum or see vintage aircraft all in one place.
More history can be seen in the many plantations that surround Charleston. The Boone Hall Plantation, the McLeod Plantation and the Magnolia Plantation and Gardens are three of the best.  All of them are great for tour groups and present a living history of the past.  The Boone Hall Farms Market offers a variety of items including their famous jams and jellies plus they have a delightful café where you can enjoy what may be the best Chicken & Sausage Gumbo ever served.  The signature sandwich at the café is Crab & Pimento Cheese Melt served with a fried green tomato on whole wheat bread.
If you're looking for a great burger and a cold beer after that long day of sightseeing then stop in to one of the three locations of Sesame Burgers & Beer.  Sesame serves up the best onion rings and hush puppies in all of Charleston, but the burgers are not to be missed.  They have about a dozen burgers on the menu, but feel free to design your own delicious concoction.  And for the vegetarian out there they serve up a black bean burger just for you.
The spring weather in Charleston cannot be beat.  Take your group, hop on that charter bus and make your memories.