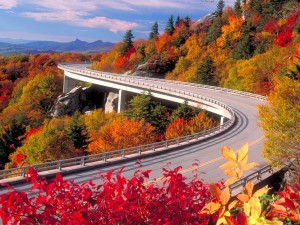 Spring isn't the only time for new beginnings!  Autumn boasts many changes, including the beginning of a new school year, football season, and of course the beautifully colored leaves.
We are blessed in the United States with an abundance of beautiful places to see the view the fall foliage.  From sea to shining sea, here are a few of our favorite locations for your groups to view the changing leaves!
North:
Wisconsin: Door County boasts over 300 miles of shoreline has it all when it comes to fall beauty.  Lake Michigan, miles of hiking, biking and great views of the leaves.
East:
Vermont:  Vermont's Route 100 is a major north-south route, winding its way from Stamford to Newport.  The farther north you travel, the less crowded you will find it, leaving you and the leaves with peace and beauty.
West:
Columbia River Gorge, Oregon:  With breathtaking scenery year-round, adding in fall colors is the icing on the cake.  You will have beautiful views by following either I-84 or the old Historic Columbia River Highway.
South:
Ellijay, Georgia:  Located 80 miles north of Atlanta on the edge of the Chattahoochee National Forest.  Celebrate fall in the Apple Capitol of Georgia with 10 apple orchards.
An easy, affordable and enjoyable way to see all of these sites is by motorcoach.  Motorcoaches offer panoramic views of the landscape, without worrying about directions.  Many companies offer tours during the fall season that highlight their specific geographic areas.  Call your locate motorcoach operators for details and tour information.