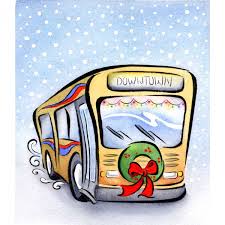 The holiday season is around us, with all its glory! We find ourselves running frantically here and there to get the perfect gifts. We force our family to take the once-a-year holiday photo for our cards that are sent out to those we love. We bake goodies, we wrap presents, and then we hit the road… Traveling and the holidays go hand in hand. Over the river and through the woods to Grandmother's house we go – is reality for many of us. This year, more people traveled during the Thanksgiving holiday since 2007!
Many people will be flying the friendly skies…or are they so friendly? Long lines, delayed flights, cancellations and on top of that, there are so many changing rules about what you can and cannot have with you in your carry-on .
Now imagine this: A calm you, relaxed and not worried about long lines or delays. You have a large suitcase, a carry-on and your laptop. Your vehicle arrives and as you board you notice the plush reclining seats, the panoramic views out the large windows and the outlets…..OUTLETS? Yes, you read that correctly, outlets. Many of today's modern motorcoaches have 110 outlets available for you to power up your computers, iPods and cell phones. Many more coach companies also have Wi-Fi available on their buses – and you can use it the entire ride, not just above 10,000ft!
Along the way, you are able to enjoy the view out of large panoramic windows and when you do arrive at your destination, you don't have to worry about finding the luggage carousel, or if you bags made it – they have been with you the entire trip.
That's the motorcoach difference. Most people think that flying is the only way to go, and they are wrong. When you travel by motorcoach, you travel together, you travel safely, you travel smart. GoMotorcoach!