All journeys have secret destinations of which the traveler is unaware – Martin Buber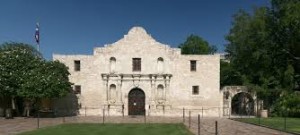 Getting a group together and deciding on where to travel can be a daunting task.  In the spring the general consensus among many is to hit the beach, but this may not be the best for everyone.  While it may not be foremost in everyone's mind, one place that is ideal for groups and has plenty to offer is San Antonio, TX.  San Antonio is a large city and there is a lot to see so taking your group via a charter bus is a very viable way to go.
Just about everyone has heard of The Alamo, but many are surprised to learn that is right in the heart of downtown and that it was founded in 1718 as the first mission in San Antonio.   Four other Spanish colonial missions were eventually built; Concepcion, San Jose, San Juan and Espada.  A journey along this mission trail is not only historical, but fascinating as well.  Begin with the visitor's center located in Mission San Jose and travel the trail visiting all of the missions until ultimately ending up at The Alamo.  Your bus driver can easily make the stops at each destination allowing adequate time to enjoy them all.
Once you are back downtown you can take in the sights of the world famous River Walk.  The River Walk is filled with restaurants, shops, sidewalks and stone bridges.  One thing that makes it unique is its location below street level.  Riding the Rio San Antonio Cruiser is the best way to get acquainted with the area.  The boat ride is 35 minutes long and your tour guide will immerse you in the history of the River Walk and provide a plethora of information.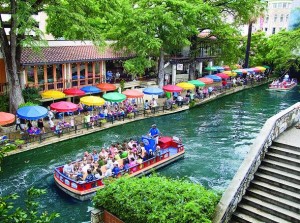 One of the best times to visit in the spring is during the annual Fiesta San Antonio, which takes place over 11 days each April.  The festival consists of over 100 events and with that many to choose from there will most certainly be something the entire group can agree upon.   Parades, live music and a 10k run are just some of the many activities taking place.
But what if you want to take your group away from downtown and explore other parts of the area?  Have no fear because a multitude of places await your arrival and all of them are well-suited for groups arriving by bus.  Just northeast of downtown is the San Antonio Zoo which features over 3500 animals and the Zoo Eagle Train which has been a favorite of children and adults since 1956.  A little bit further north is the McNay Art Museum; the first modern art museum in the state of Texas and featuring works from such masters as Picasso and Rivera.  The Spanish Colonial style home that is the heart of the museum is a sight unto itself.
If exploring caverns sound like a fun way to spend a few hours with your group then the Natural Bridge Caverns are for you.  The caverns are a 30 minute drive north of downtown and contain fascinating geological formations and are a constant 70 degrees inside.  They have several tours to choose from, but whichever you choose be sure to wear comfortable shoes.
No trip would be complete without sampling the culinary delights of the region and San Antonio is no exception.  When you're in Texas three items come to mind; barbecue, steaks and my personal favorite, Tex-Mex.
There are several great dining choices on the River Walk where dining outside is the preference.  The County Line BBQ is an exceptional choice on the river for real Texas BBQ.  Smoked sausage, brisket, ribs and chicken are the specialties of the house and with the large portions you will never leave hungry.  Add in the peach cobbler for dessert and you have one spectacular meal.
If a steak is what you are after then head to The Barn Door which has been a San Antonio classic for over 60 years.  Using only the finest, aged beef this place is a favorite of both locals and visitors.  The chicken fried ribeye is a one of a kind experience and the homemade hot rolls are to die for.
But no visit would be complete without a taste of Tex-Mex and there is no shortage of excellent choices.  However two stand out above the rest; La Hacienda de Los Barrios and Los Barrios Continental Mexican Cuisine.  Both are owned by the Barrios family, but each has a distinct menu.  At La Hacienda be sure to go for the fajitas or try the puffy tacos.  At Los Barrios the Classic Enchilada Assortment, featuring five different enchiladas, is simply fantastic.
No matter what sights your group chooses to see or where they choose to dine your San Antonio vacation will be one to remember.