Anyone who has ever planned a wedding knows that it's a HUGE undertaking.  Once a simple and fast tradition has turned into a multi-day, big, expensive extravaganza.  In 2014, we have more media and ideas coming at us than ever.  Wedding websites show us all of the new and latest must-haves at our ceremonies and sites like Pinterest make the weddings of our dreams seem like a DIY reality.
With so many things to check off the to-do lists, don't forget about one very important, usually overlooked part of the day: shuttling your guests between the ceremony, the reception and the hotel.  It may seem like a small detail, but it could make all the difference.  Your guests won't have to worry about directions, travel time, getting a DUI ticket or worse.
According to the Mothers Against Drunk Driving (MADD) website:
                "In 2012, 10,322 people were killed and approximately 345,000 were injured. Each crash, each death, each injury impacts not only the person in the crash, but family, friends, classmates, coworkers and more.  Even those who have not been directly touched help pay the $132 billion yearly price tag of drunk driving."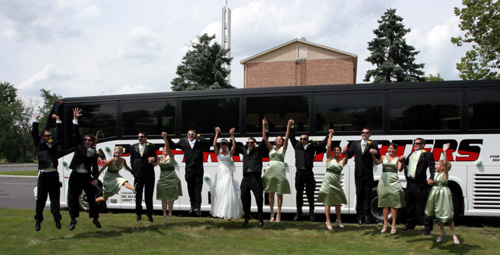 It's easy to eliminate the risk of drunk driving all together when you hire a motorcoach company to take care of you and your guests on your wedding day.  Let's face it, that day is stressful enough.  Take the guess work out of finding a sober, confident driver and enjoy your day.
Motorcoaches come in so many sizes, it's easy to customize to your specific needs.  Coach companies today have a wide variety of vehicles in their fleets from old fashioned trolleys to large, executive style motorcoaches.  Each company is different and fleet details vary, so make sure you ask questions when talking to your sales associate.