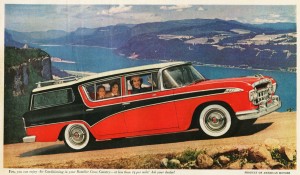 Nothing says summer more than a road trip.  There is something about the good old American road trip that's romantic to us.  Perhaps it's the memories of us as children, piled in the back of our parent's station wagon with no seat belts on, and if/when it was your turn to sit backwards you felt like the king of the road!  Perhaps you were traveling with a group of family or friends, each of you in your own vehicles, driving for hours and only getting to meet and visit at a road-side gas station during bathroom breaks while your Dads fueled their vehicles.  After the break, you would hop into your own car, and wait to chat until the next break time.
Fast forward to 2014 where you don't have to wait until someone has to gas up or relieve themselves to talk to each other.  When you choose to use a motorcoach, instead of separate cars, everyone can travel together, the whole time!  Not only do you save time and money, but you save wear and tear on your individual vehicles.
Today's motorcoaches are designed with your group travel in mind.  They have plush amenities, including Wi-Fi on board and outlets.  No more running into the gas station and begging for an outlet to charge up your dead cell phone.  No more using your data plan up on the first day of the trip.  We have you covered!
Here is the best part: You tell us what you want to do, where you want to go and what you want to see, we do the rest.  Motorcoach companies are well versed in travel and can help groups of all sizes get tickets, hotels and meals all lined up – and if they can't, they know who can.
Summer is almost here, don't wait to plan that fun group getaway, call your local motorcoach company and begin planning your epic summer vacation today!  Go Motorcoach and leave the driving to us!