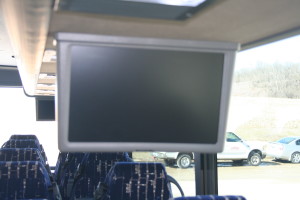 Nothing says road trip, like an awesome iPod playlist (stay tuned) and great movies to watch while on the motorcoach.  Young and old alike can enjoy these great feature films.
1.  The Muppet Movie: Nobody does a road trip like Jim Henson's Muppets.  Music, mayhem and all kinds of silliness,  this classic movie is fun for the entire family.
2. Dumb and Dumber: Clearly not the smartest film on the list, but if you can keep a straight face as Lloyd and Harry bumble through America in their dog-shaped "shaggin' wagon", you need to pull over and have your funny sensor checked.
3. RV:  Who says you can't road trip and work at the same time?  This hilarious movie starring Robin Williams will leave you laughing all the way to your destination – let's just hope you leave your bus in better shape than they leave their RV.
4. Disney's Frozen:  The newest hit movie from the Disney company, the film tells the story of a fearless princess who sets off on an epic journey alongside a rugged, thrill-seeking mountain man, his loyal pet reindeer, and a hapless snowman to find her estranged sister, whose icy powers have inadvertently trapped the kingdom in eternal winter.
5. National Lampoon's Vacation:  Need we say more?  Wanting to spend more time with his wife Ellen and their children, Clark Griswold decides to lead the family on a cross-country expedition from Chicago to the Los Angeles amusement park Walley World, billed as "America's Favorite Family Fun Park".
6. Rudy:  What's better than a feel good, sports movie where the underdog wins?  Not. Much.  That's why Rudy earned a spot on our list.  It is an account of the life of Daniel "Rudy" Ruettiger, who harbored dreams of playing football at the University of Notre Dame despite significant obstacles.
7. Princess Bride:  This classic movie has everything.  True love, sword fighting, giants, comedy, torture, screaming eels and a beautiful princess.
8.  Finding Nemo:  It tells the story of the over-protective clown fish named Marlin who, along with his friend, Dory search for his abducted son Nemo all the way to Sydney Harbor.  Along the way, Marlin learns to take risks and let Nemo take care of himself.
9.  Mary Poppins:  Disney at its best.  The film, which combines live-action and animation, stars Julie Andrews as a magical nanny who visits a dysfunctional family in London and employs her unique brand of lifestyle to improve the family's dynamic.
10.  Tommy Boy:  Knock, Knock…"Housekeeping, you need towel?" This movie is not only fun to watch, but you will be quoting it the rest of your trip.  Chris Farley and David Spade make a great team when they join up to save the Tommy's family's factory.