Prepare yourself for a journey quite similar to how you felt as a child wandering through the magical world of Disney. Sights, sounds, and experiences you almost cannot put in words await for you! Chattanooga is known for its many Civil War museums, Nature Center, Ocoee River rafting, Tennessee Aquarium, and ghost tours. However, if you're looking for attractions a little off the beaten path, follow me…..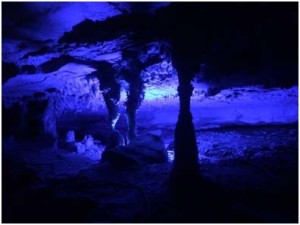 Ruby Falls is great in any weather! Why? Because it's always 60 degrees and never rains! Ruby Falls is over 1100 feet beneath the surface. At 145 feet tall, it's the largest and deepest waterfall that is available for public viewing. Located deep inside Lookout Mountain, tours are available 8am-8pm daily. The tour guides are absolutely amazing at pointing out and explaining the different cave formations and interesting facts about the sites around you. You will definitely want to have your camera or phone ready to snap amazing pictures of colors and formations that can only be explained by a visual image! Adult tickets are $18.95 and children        (3-12) tickets are $10.95. Lantern Tours are available on Friday nights at 8:30 pm March-September, and during the month of November. Two weeks' notice is required, no one under age 8, and cost is $26 each.
Next stop on your journey is Rock City Gardens in Lookout Mountain, GA. Prices are much like those for Ruby Falls. Only 6 miles from downtown Chattanooga, Rock City Gardens offers free parking and an experience you will never forget. Prepare to become awe-struck by ancient rock formations, gardens showcasing over 400 native plant species, a 90-foot waterfall, a swing-bridge spanning over 180-feet overlooking the Chattanooga Valley, and one of the most beautiful sights you will ever see­­—"See 7 States". Georgia, Tennessee, Alabama, North Carolina, South Carolina, Kentucky, and Virginia are all said to be visible from this landing in the sky. Café 7, located at Lover's Leap, is a great place to enjoy a meal while overlooking the states. Starbucks, ice cream, pizza, and burger options are also available in the area.
Continuing the outdoor adventure, you will take about an 8 minute drive to Incline Railway. Open daily from 9am-7pm, the 15-minute (each way) enclosed trolley car ride offers more scenic views of this historic location. At a grade of 72.7%, be prepared for a unique ride in one of the world's steepest passenger railways in the world! No worries, though; it's completely enclosed, travels less than 10 mph, and is very safe! Upon arriving at the top, there is an observation deck overlooking the TN Valley, food options, and gift shops. Within a short walking distance, you will find Civil War attractions including Battles for Chattanooga Electric Map & Museum and Point Park, which is part of the Chickamauga and Chattanooga National Military Parks. There is also a half-price discount offered during the months of December, January, and February.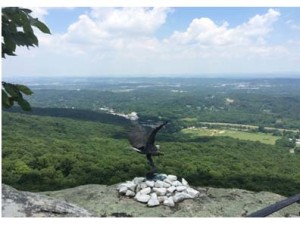 Although there are many great lodging options, such as the Chattanooga Choo Choo and The Read House Historical Inn and Suites, a mountain-view masterpiece named the Chanticleer Inn Bed and Breakfast is in a category all to itself. Conveniently located across the street from Rock City and only minutes away from Ruby Falls and The Incline, Chanticleer Inn offers stone cottage type lodging featuring French country motif, hardwood floors, spectacular views, private patios, home-cooked breakfast, and luxury upgrades for many different occasions. From May 1-November 1, there is a 2-night minimum; however, single night stays are available occasionally. Rooms start around $150/night and are more than worth the price. Military and police discounts are always available. The Chanticleer Inn is a smoke-free and pet-free facility.
Many companies in Chattanooga offer discount packages that include these attractions. To save quite a bit of money, package options are highly recommended, and almost everywhere mentioned above offers group discounts with advance purchase. Many packages that include the three main stops mentioned above price around $48 for ages 13 and up, and $26 for ages 3-12. Package prices can vary greatly depending on group size, tours, catering, special times, etc. However, package pricing is always better than single purchases at each location! Be prepared to be amazed at the sights that you will see on this trip, and the amazing memories you will create with your friends and family!