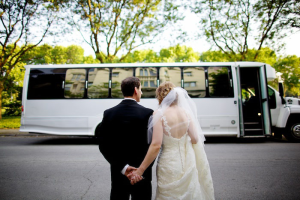 The magical day has arrived.  You are getting married and all of your friends and family members are there to celebrate with you.  Everything needs to be perfect.  Of course no wedding ever goes off without a hitch, but there are some hitches that can be prevented.  Surprisingly your friendly neighborhood charter coach can make a big difference.  How?  I'm glad you asked.
Have you ever noticed that wedding receptions are often notorious for poor behavior at the reception?  It is no secret that alcohol consumption is a very typical occurrence at the wedding reception.  Often times the drinking begins way before the actual ceremony.  You want your guests to all be safe, but how can you do this when you have so many other things to worry about on the big day?  You can do this easily by hiring a charter bus to take your guests from the ceremony to the reception and back to the hotel in complete safe.
Let's say that the family and many of the guests are all staying at the same hotel.  This is quite common especially with destination weddings.  The ceremony may be several miles away at a beach, a local church or in some beautiful botanical garden.  What better way to get all the guests there than by bus.  There is no need for the guests to all hop in their own cars and fight for parking when your bus can get all of you there in complete comfort.  No parking available?  No worries at all because that bus you chartered is dropping everyone off and going away until it is once again needed.  When the ceremony ends it is back on the bus and off to the reception, which could be held at any number of places.
Now here comes the fun part; your guests are free to relax without having to think about the drive home.  They can celebrate merrily with the happy couple well into the night without worrying whether or not they had one too many.  When the newlyweds escape the madness in their limousine they can do so knowing that their guests are all traveling back to the hotel under the watchful eyes of their skilled bus driver.  Sure, the bus driver was given a nice meal at the reception, but did he/she have a drink?  Nope.  Your driver is a professional and takes his/her job seriously.  You can rest assured that only beer the driver will hav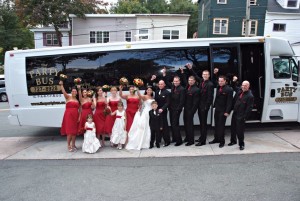 e is a root beer.
Even if the hotel is not that far from the reception hall you can still benefit from using a bus.  Go with a smaller motorcoach and you can shuttle your guests back to the hotel in shifts.  Some guests may not be the party animals they thought they were and will want to get back and begin a restful night of sleep sooner than others.
And not only are you keeping your guests safe, but you are also keeping everyone else on the road safe as well.  No one wants to hurt anyone else or be the cause of an accident and with your motor coach shuttling the guests then the roads are less crowded and safer for everyone.
A typical wedding these days' costs thousands of dollars and what better way to ruin the entire day than by seeing your guests leave when they are not sober and in no condition to drive.  By hiring a charter motor coach you can have peace of mind knowing that your guests will arrive safely at their destination.