For my part, I travel not to go anywhere, but to go. I travel for travel's sake. The great affair is to move. – Robert Louis Stevenson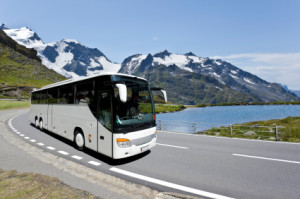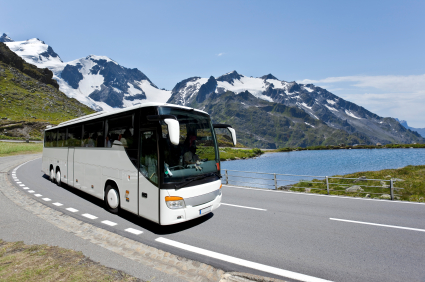 Sometimes the best part of traveling is not the destination, but the journey itself.  I have often traveled with my family and found myself missing out on things.  I cannot recall how many times I heard someone say "wow, look at that" or "that is absolutely beautiful" and there I am with my eyes glued to the road and missing all the beauty.  However, it does not have to be that way.  Traveling by charter bus is an excellent way to see America and all she has to offer.  No matter where you are headed, there is beauty to be found.  Let's take a few minutes and look at some of the benefits of charter bus travel.
As I mentioned the most obvious reason to go by bus is so that you can enjoy the journey. Whether it is the mountains, the plains, the wildlife or the stunning architecture of the big cities, you won't have to miss a thing.  Leaving the driving to someone else leaves you all the time to take in everything if you so choose.  Just relax, sit back and enjoy the views. Don't be in a hurry to get somewhere, but take the time to appreciate the odyssey.
Naturally weather can be a factor as well.  Leaving the driving to someone else who happens to be a professional bus driver can give one incredible peace of mind.  You see that driving rainstorm coming up ahead?  No need to worry because your driver has everything under control.  He/she has been trained to handle all sorts of situations and you can leave your worries to him/her. Plus there is very little chance of getting lost as your driver has likely taken this same trip many times.
It's economical as well.  Just add up what you would spend to rent a car and purchase fuel and you will see that going via charter bus will save you money.  Once you stop somewhere for the night your lodging is often already included with what you paid for the tour so no worries in that department either.  You're not going to have to think about those no vacancy signs because your room is ready and waiting.  In addition it is substantially more economical than airline travel.
When you leave the driving to someone else you have more time for yourself.  Maybe you finally want to start reading that novel you've had to put off for so long.  Well, by taking the bus you have plenty of time.  Maybe you have a movie on your tablet you have been dying to see or a series you just want to binge watch.  You certainly can't do that if you're sitting in the driver's seat.
These days there are a lot of people that travel alone, not because they particularly want to do so, but rather by necessity.   Once you've chosen your destination you can hop on that bus and suddenly you are not feeling like you are by yourself.  What a great time to meet new people and make new friends.  You're obviously not going to be the only person on that bus and that is a good thing.  Everyone has a story and just about everyone loves showing off photos of their family. You will have the opportunity to meet people you never would have met otherwise.  I can say for myself that I have made lifelong friends from strangers sitting across the aisle.  Maybe you'll even want to travel together again one day.
Since chartering a bus is less expensive than you probably realize, it is also a fantastic way to get your family together for a special occasion.  Whether you are looking to have a family reunion or to celebrate mom & dad's 50th wedding anniversary, you can all pitch in together and make chartering a bus your own private party.  Pick a destination, pick a starting point and off you go.  From a personal standpoint, I have to say that doing this was one of the best ideas we ever had.  There is a very good possibility that your driver will become an honorary member of your family as well.
So don't fear the charter bus.  Yes, like everything in this life, it has its pros and cons.  But just think of the memories you will bring home after a long journey on the road with someone else doing all the work.  I can't think of a more relaxing way to travel.