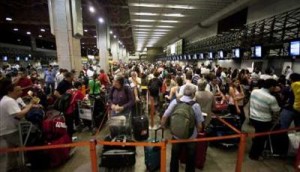 Let's face it, traveling by plane alone or with a group is difficult.  Long lines, delayed flights, cancellations and on top of that, there are so many changing rules about what you can and cannot have with you in your carry-on .
Picture this, you along with your family and friends, meeting up to go on a trip.  Each of you is relaxed, calm, without worry of lines, cancellations or delays.  Each of you has a large suitcase, a carry-on and some even a laptop computer.
Your vehicle arrives and as you board you notice the plush reclining seats, the panoramic views out the large windows and the outlets…..OUTLETS?  Yes, you read that correctly, outlets.  Many of today's modern motorcoaches have 110 outlets available for you to power up your computers, iPods and cell phones.  Many more coach companies also have Wi-Fi available on their buses – and you can use it the entire ride, not just above 10,000ft!
Your journey starts, and along the way you make stops at national monuments, fun hole-in-the-walls and dine on more than a bag of peanuts at one of thousands of group friendly restaurants.  Your group arrives at the hotel, and are dropped off at the door.  No luggage carousels, no lost baggage to worry about, it's all right there with you.
During your stay, your driver and coach are ready and waiting to take your group to any destination you wish to experience.  That's the motorcoach difference.  Most people think that flying is the only way to go, well they are wrong.  When you travel by motorcoach, you travel together, you travel safely, you travel smart.  GoMotorcoach!