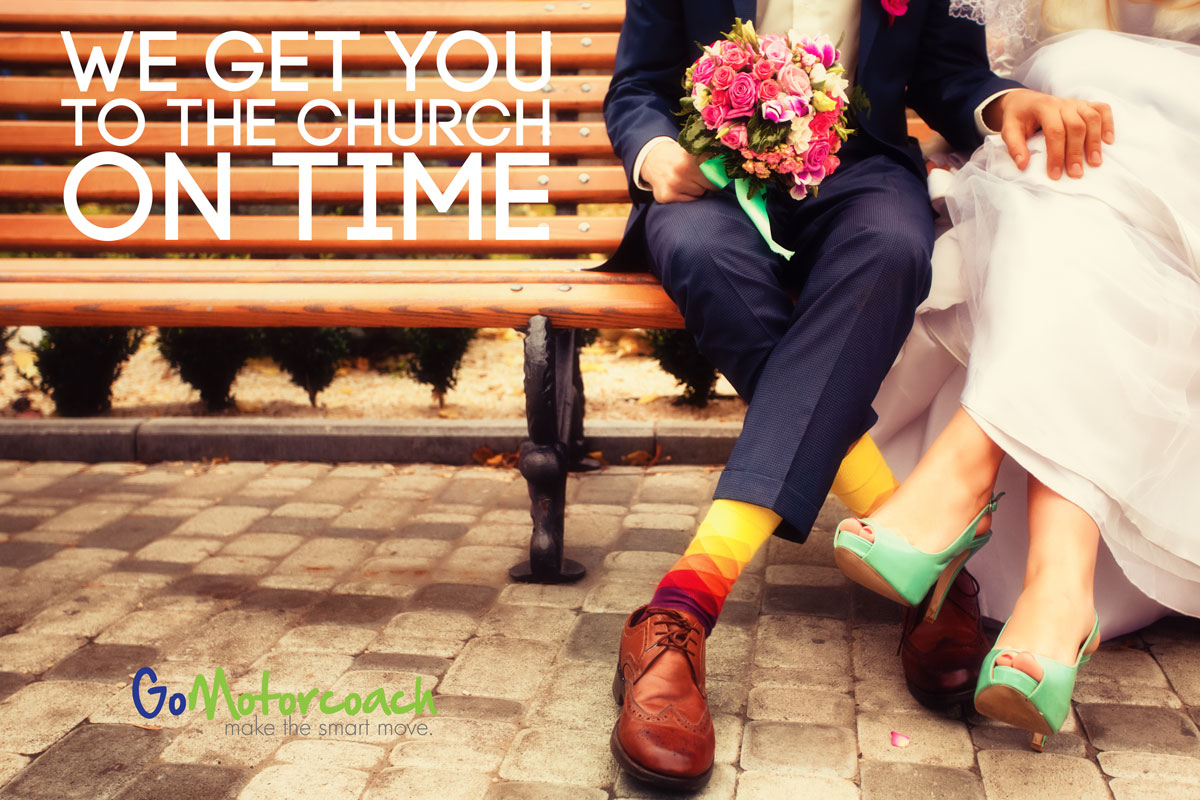 This quick guide will make sure you get to the wedding on time and in-style.
Depending on your preferences and budget, there are several options to consider when arranging transportation for your wedding day. If you need to accommodate a large group, motorcoaches or charter buses are a popular option. For smaller parties, or for shuttle-type service, a mini coach or a van may be a better solution.
Transporting the members of the wedding party often falls under the things that you are responsible for. This can include many different kinds of transportation including bachelor and bachelorette parties, wedding dinner rehearsals, airport shuttles for out of town guests, hotel to venue shuttles, ceremony to reception transportation, and of course, the safe ride home transportation for those who may have had a little too much fun at the reception. This can be an important part of these kinds of events and can be the difference between frustration or delays and an event that runs smoothly and without major drama.
When booking transportation (best done about three months in advance, or earlier if you're in an area with few options), make sure you're dealing with a reputable company. Get a referral from a trusted friend, speak to former customers, and check with the Federal Motorcoach Carrier Safety Administration to check if you are choosing a safe and reliable operator. Call the list of potential operators and find out whether the drivers will wear uniforms, if they have ADA complaint equipment and, if it's important to you, ask whether you can have champagne or other alcohol on your trips.
Ask your transportation provider for advice on your wedding party specifics. Give them the location of your venue, where your guests will be staying, how many people you have in your wedding party, and what days and times you are planning on having events. Ask them about what you can do to keep your transportation budget to a minimum. Also, ask them about your venues and any transportation limitations that may present. Be sure to work with a company that has equipment that you want to use and be sure that you specify the kind of equipment that you want to service your events.
Once you've made your choice, be certain that your chosen provider has your full itinerary at least 2 weeks before your event. Follow up with them and make sure that they have received it and ask them if they foresee any issues based on traffic, construction, or special events in the area.
Choosing to provide transportation for your wedding party can be a major upgrade to your entire event. It will make sure that you don't have lost guests and that you can keep on schedule. One of the biggest costs on your wedding day can be for unplanned overruns on your venues, bands or DJ's, photographers, and caterers. A motorcoach will help you keep these expenses in check!
When we decide to book your wedding transportation, we look forward to showing you what makes motorcoach the premier choice for  brides and weddings.